Watercolour and ink P4
JDavies This watercolour drawing is of a series of surreal landscapes consisting of professional watercolour and fine liner Staedtler ink on arches paper. These automatic drawings are testing my memory and surrealist thoughts straight on to paper and must be at least 100 in my archives. All well produced and very interesting to the eye, and the multiple imagery which consists of creating one image everything is never what it seems. J Davies
Jason Davies. This watercolour and ink drawing – painting is for coming of the Dyson Structure theory about can humans or beings really build and harness power from the Sun in space, either in the future or the present day. This highly detailed with line and colour is a good piece in my thinking. J Davies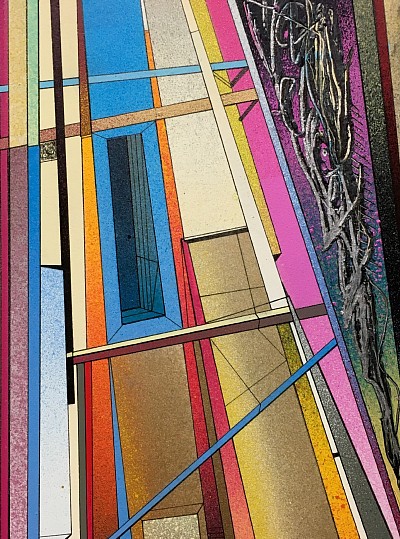 Detail from Elevation of Shade. Spraypaint and ink on arches paper JDavies 2006
JDavies. This piece of art is from my early collection of trying spray paint on arches hot pressed paper. These paintings are over a decade old and there is quite a few in the series the colours of the acrylic spray paint are very bright and vibrant,with the crisp clean edge also of the ink makes these pictures look constructive and building like, pieces of art. Again created with no preconceived ideas and with a surrealist view with line and objects and shapes to create the picture you are looking at. Jason Davies 2006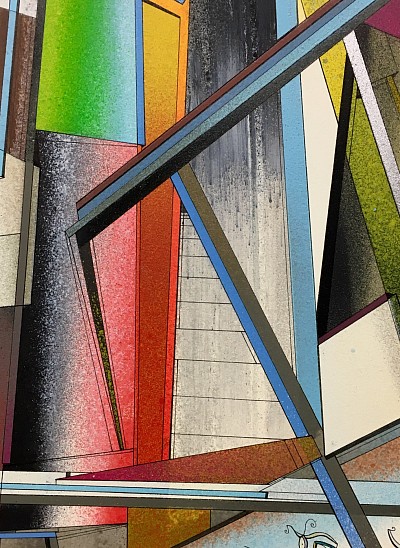 Detail from, J Liner. Spraypaint, ink and watercolour on arches paper Jason Davies 2006
Jason Davies. These paintings were found under the bed last week and they consist of about 30 piecesall created with spray paint, ink and water colour. these highly finished, highly colourful works of art are pretty very good and over a decade old. The construction process of surrealist buildings and angles these highly vibrant spray paint process which are fresh and vibrant and are part of the early parallel technique of experimental processes on paper.jason Davies 2006.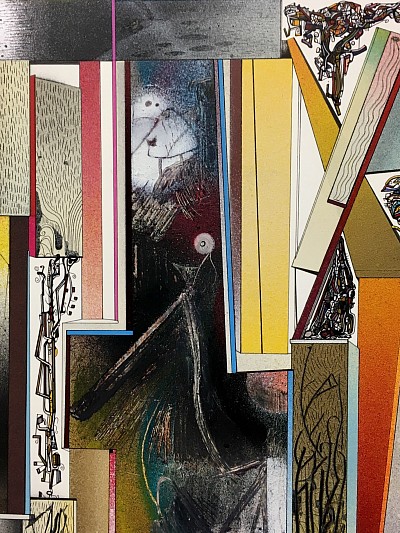 Detail from, Strangely Boxed Thoughts. Spraypaint ink and watercolour on arches paper Jason Davies 2006.
Jason Davies. These early paintings constructed with spray paint, ink and a touch of watercolour are surreal thoughts connecting with line. You don't think out of the box, you think on the box in other words get on the box and then you can see what the people are doing out of the box or other words you can see everyone and everything in your path such a clear thought for a complex life. J Davies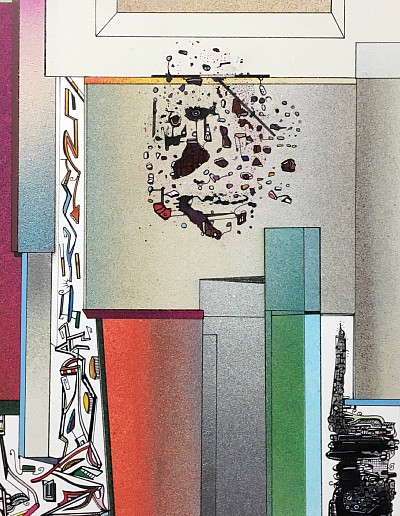 Detail from, Breaking Square. Spraypaint watercolour and ink on arches paper, Jason Davies 2007.
Jason Davies. These watercolour paper paintings created in a construction surrealist Theory are all together a fine colourful piece of artwork. With the experimentation of lines to create shapes boxes ETC and like all humans do,we like to put things into boxes so the art interacts with daily life I suppose on a surreal level. JDavies