Female Nude Watercolour and Ink.
Surreal things JDavies artworks 
Jason Davies These paintings in watercolour and ink are revamps from years ago these are surreal nude female figures all in rooms or architectural setting. There is also a fashion set and in twined within these figures also ex-girlfriends have come to mind. With revamping these paintings which means bringing them up to par within my own technical abilities. I have revamped quite a few from this series and now I think they look great and ready to be shown before I was a bit dubious, but now I like. Again watercolour and ink on arches hot pressed paper the beautiful watercolour and the black of the ink go together real nice and the indoor settings add to the pieces. Jason Davies 2016
Jay davies this piece of art represents my revamped series of female nudes from 2014. They originally had ho heads so in 2016 I went back and repainted the nudes in a surreal manner with heads, there is quite a lot from the past series, and I am still on it. Now the paintings are complete which they were very not near before and I am pleased with the outcome.painted in watercolours and staedtler ink on hot pressed Arches paper. Pro watercolour and brushwork. Jason Davies
Jason Davies surreal nude from 2016 which is nearly a year old. All done in watercolour and ink on Arches paper good composition and posture all round. A surreal view on the female anatomy or Masks belonging to reality. Jay Davies
Jason Davies Single white glove single white surreal female nude water colour graphite and ink on Archie's paper. The white backgrounds on these represent on quite a lot of the female nude series is about purity and it is very hard to work without buffing the background into the figure. I like doing and painting the most difficult first it's just apparent to me through nature I suppose. JDAVIESARTS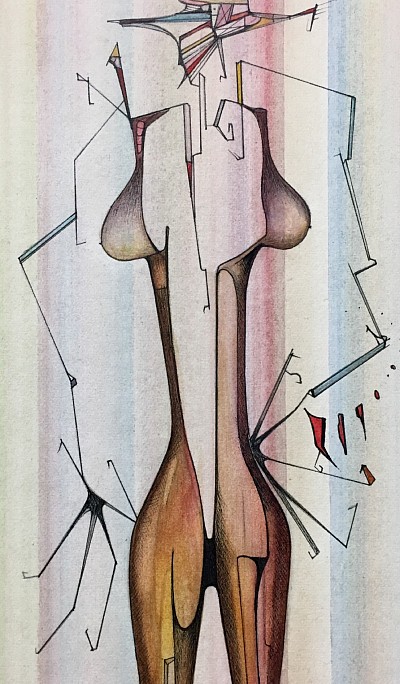 Detail from, Two Part Supersuit. Watercolour and ink on arches paper, Jason Davies 2011
Two Part Supersuit. Jason Davies This series of female anatomy with a surreal and Futuristic twist on the athleticism, body, bikinis models etc. A sportsman attitude and the achievement to win competitions within our society and within the Human race. This painting created in watercolour and ink on hot pressed arches paper and a early learning piece from my collection of anatomy studies which I like. Jason Davies 2011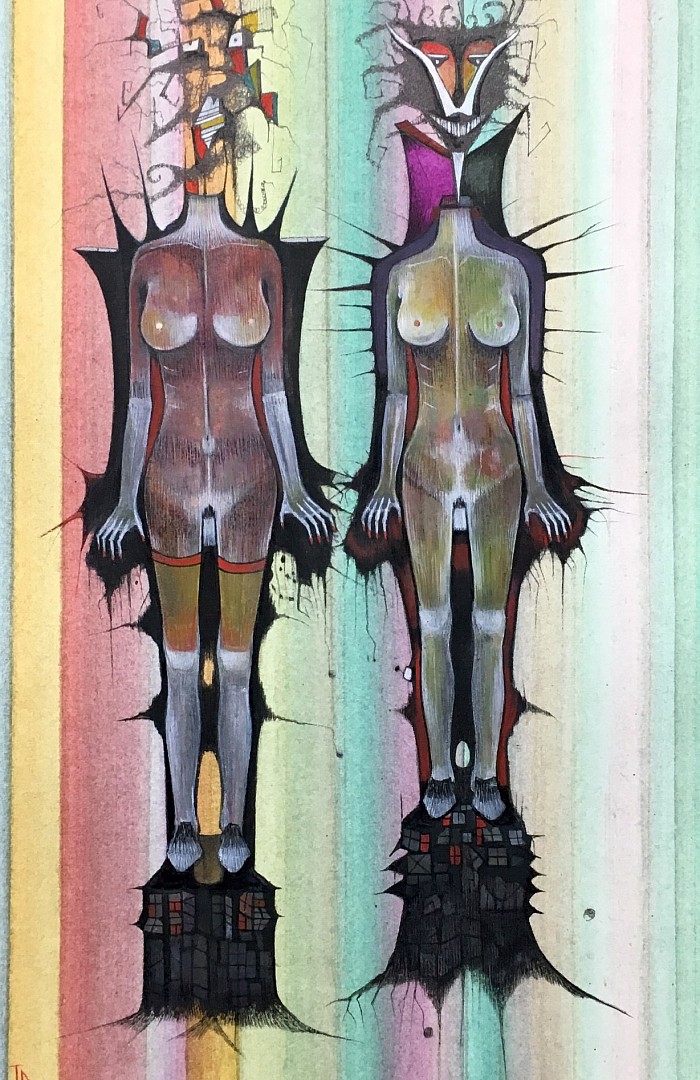 Double Masked Exposure. Watercolour, ink and graphite on arches paper 28 x 19 cm Jason Davies 2013-17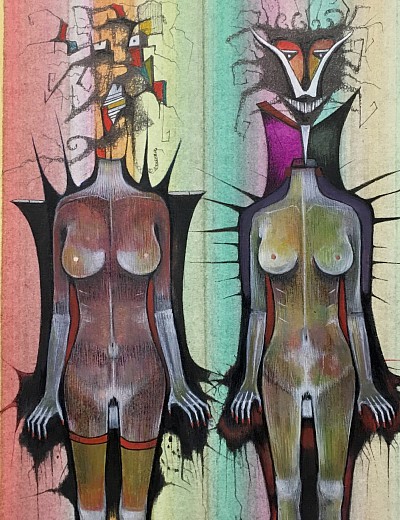 Detail from, Double Masked Exposure. Watercolour, ink and graphite on arches paper Jason Davies 2013-17.
JDavies. This revamp series of watercolour nudes stretching back from 2013, consists of the human female body with the elements of the surreal masks wallpaper and backgrounds. The bodies were revamped and more detail was added to the series to make them compatible for my Eyes and to be shown in the future. All created on arches hot press paper and professional watercolour and pigment liner also stretched to perfection like all my watercolours are,and I think a great addition to my watercolour/paper collection. Another automatic surrealist series taken straight from memory and where ever bound. JD