Watercolour and ink.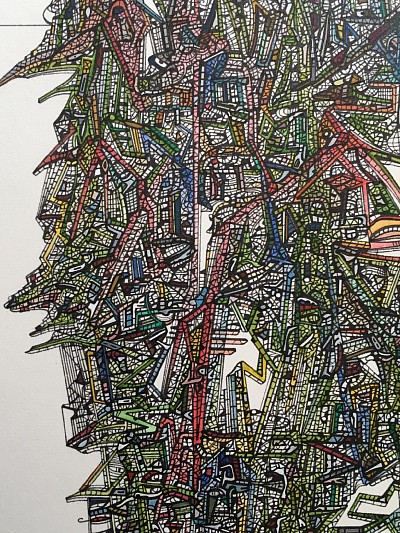 Detail from Green With Greed. Watercolour and ink on arches paper JDavies 2008
This watercolour painting – drawing is from a series about the banking crisis in 2007 onwards and the masks that bankers hid behind to protect the capital gains etc. we do not know the majority of these people, but they know what our money was. So they are about the detail and how money can be gained through these details. These paintings took about a 1000 hours to draw and paint highly detailed complex works of art all created on arches paper and the representation of pure surrealism there will be shown in the future. The process called to the nearest point where ink is laid over watercolour and then the process is repeated over and over until the detail is at its finest. These drawings are considered masterpieces by myself. JD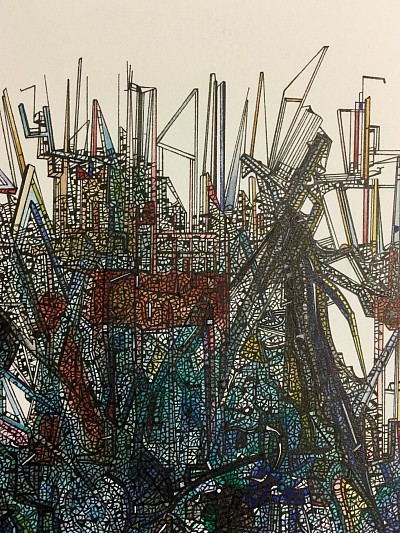 Detail from Posiedon. Watercolour and ink on arches paper JDavies 2008
Bankers mask series, Poseidon after the Greek God of the sea which the colour is blue. Sounds a bit corny but when the piece was completed that was the first thing in my mind. The complexity of these pieces is unreal and took many months to complete, it was a job on its own to keep the white pure on the background without markings these are considered by myself as masterpiece drawings and I like them very much to what they represent. The paintings that occurred oddly enough it are nearly a decade old and I cannot reproduce them I have tried but failed, so makes them very rare in my collection of art. JD
Detail from Broken Greed. Watercolour and ink on arches paper Jason Davies 2008-2009.
Jason Davies This painting is part of the bankers mask series which there is five or six from the years 2007 to 2010. These highly detailed pieces of art consists of watercolour and ink and took a couple of months and a lot of hours to create. This piece represents the banking sector and the greediness that these persons achieved on a monstrous level, the ugliness and darkness prevails in the mask which is built up of fine layers of paint and ink which represents the lust for money and doesn't matter where it comes from. These people hid behind these masks and they still do in society which somehow and really got away with. Jason Davies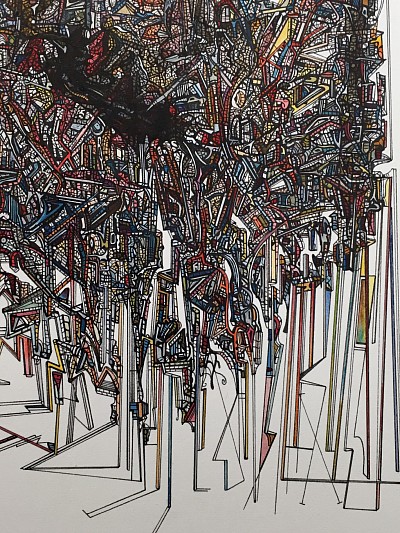 Detail from The first Face, Insanity Inspired. Watercolour and ink on arches paper Jason Davies 2008
Jason Davies. This piece of art is the first in the series of the bankers masks from the time where it seemed greed and money overcome society in a big way.these pieces of art created on Arches hot pressed paper and professional watercolour and ink fine liner. The process is called to the nearest point where the line is gradually decreased to create very fine detail and on and on oak they have also reminded me of detailed maps from above. There are quite a few in this series of this type of art from that period which is nearly a decade old, I think these works are very interesting and show great detail with precise line and colour which also took a lot of hours and work. JDavies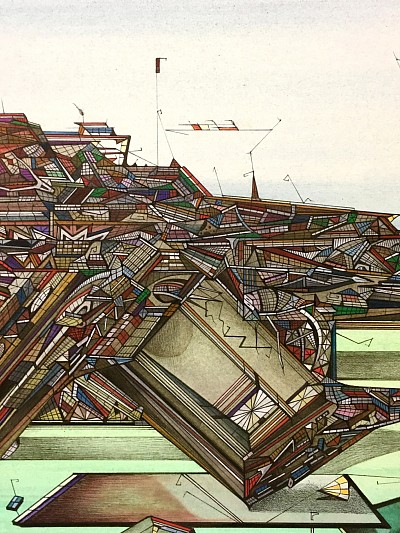 Detail from Warship. Watercolour and ink on arches paper JDavies 2016
These drawings/watercolours I am presenting or just random over the past 15 years I will put more on at a later stage. This painting represents the future , warships we will probably build to protect us. Watercolour and ink surrealist paintings- drawings highly detailed artworks which I did do as a side interest as to painting on canvas all the time. Jd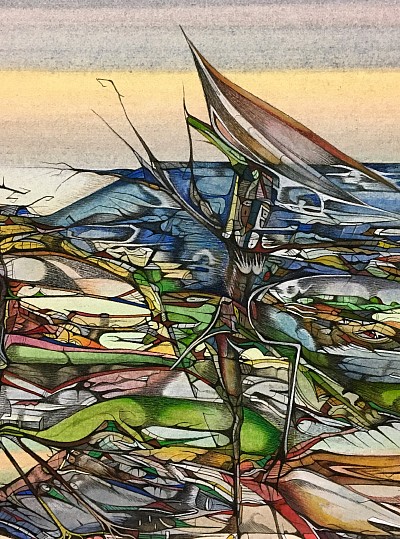 Detail from Landscape dancer. Watercolour on arches paper JDavies 2012
This surrealist watercolour piece represents a figure dancing with different dimensional views surrounding her. A complex background with a surrealist twist on folk law and tails surrounding the Yorkshire area. A well pleasing piece and a nice size, again to the nearest point using detail upon detail to create imagery. JD
This artwork represents the series I started in 2013 of about 25 nude female paintings. Back then I was learning the anatomical structure of humans and decided to revamp all these paintings this year because I didn't want to see them dismissed just like practice pieces from my past. By revamping these paintings , I think Have come out in a great surrealist way and will be added to by main collection or body of work. These are painted with very fine brushes spotters in watercolour and ink to darken and sharpen the image. I also use Arches paper which is fine smooth and flat for detailed pieces. JD